...Unless of course you were brought up by L. Ron Hubbard and his scientologists...then it quite quickly becomes one...a mental disorder that is...driving people crazy since the 1950s.
Scientology IS a mental disorder...it scrambles your brain, NO drugs required, except for those that L. Ron Hubbard took, no wonder he loved Alice in Wonderland for some of the TRs (Training Routines) used to make you find sense in total nonsense...
Source: scientologist John Alex Wood...PR crap against the psychs and they use children to promote their propaganda
The death of L Ron Hubbard






The Church of Scientology is loudly voicing their strong resistance to what they call "psych drugs". It is therefore ironic that the founder of Dianetics and Scientology, L Ron Hubbard, was taking a "psych drug" when he died. This is not unusual in itself, since bitter old men often go psychotic when dying. Witnesses testified that Hubbard died acting like a raving lunatic. This is from the 1983 edition of the Physician's Desk Reference, pg 1571. It was a couple years out of date when Hubbard died. Vistaril is the psych drug found in Hubbard's body.


Quote:

---

Vistaril®
(hydroxyzine hydrochloride)
Intramuscular Solution
For Intramuscular use Only ....
Hydroxyzine has demonstrated its clinical effectiveness in the chemotherapeutic aspect of the total management of neuroses and emotional disturbances manifested by anxiety, tension, agitation, apprehension or confusion.
....
It induces a calming effect in anxious, tense, psychoneurotic adults and also in anxious, hyperkinetic children without impairing mental alertness. It is not a cortical depressant but its action may be due to a suppression of activity in certain key regions of the subcortical area of the central nervous system.
....
Indications: The total management of anxiety, tension and psychomotor agitation in conditions of emotional stress requires in most instances a combined approach of psychotherapy and chemotherapy. Hydroxyzine has been found to be particularly useful for this latter phase in its ability to render the disturbed patient more amenable to psychotherapy in long term treatment of the psychoneurotic and psychotic although it should not be used as the sole treatment of psychosis or of clearly demonstrated cases of depression. ....
VISTARIL® (hydroxyzine hydrochloride) Intramuscular Solution is useful in treating the following type of patients when intramuscular administration is indicated:



The acutely disturbed or hysterical patient.
The acute or chronic alcoholic with anxiety withdrawal symptoms or delirium tremens.
As pre- and postoperative and pre- and postpartum adjunctive medication to permit reduction in narcotic dosage, allay anxiety and control emesis.

---


According to what Hubbard's doctor told the coroner, and what the labs from the autopsy found, Hubbard had been injected with Vistaril® and only Vistaril® in a non-hospital setting. That's what you do with a psychiatrically disturbed or drug withdrawal patient. L Ron Hubbard was given Vistaril® by Dr. Gene Denk in his final days, by intramuscular injection in the right buttocks. Vistaril® is a psychiatric drug, used to calm frantic or overly anxious patients. He died on January 24th, 1986, eight days after the fatal stroke, and one day after signing his last will and testament. He died in a 1982 Blue Bird motor home, about five miles East of Creston, CA, at the very remote "Emanuel Camp". His fingernails and toenails were long and unkempt. His hair was long, thin and receding on his forehead.
David Miscavige personally arrived with documents requesting that no autopsy be performed. 13 photographs taken of his body were later destroyed at the request of Norman Starkey.
These are public documents, available from the San Luis Obispo Sheriff's Office. Coroner's file #8936:
Read More...
Unless you are brainwashed, and you are not, are you?
No wonder Scientology says "Say NO to drugs"
So what did LRH do to people who are PTS type 3?
So, if you are PTS type three you must be connected to a Suppressive Person, right, er NO, you have finally come to your god damned senses and you KNOW this is bullshit, but by now you are totally over the edge and feel like your life has been stolen from you...YOU are right...it has.

Scientology's website says this about PTS type 3...

PTS Type III
In this case the Type II's
apparent
SP (suppressive person) is spread all over the world and is often more than all the people there are-for the person sometimes has ghosts about him or demons and they are just more apparent SPs but imaginary as beings as well.
The Type III PTS is mostly found in mental institutions.
He is best helped by providing a safe environment and giving him rest and quiet, and no treatment of a mental nature at all. He should receive any medical care needed that is unbrutal in nature.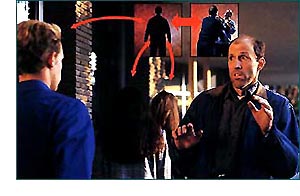 A type III PTS is also under the influence of a suppressive from his past, but the present time environment is, to him, full of suppressives.
A person who is PTS is often the last person to suspect it. He may have become temporarily or momentarily so. And he may have become so very slightly. Or he may be
very
PTS and have been so for a long time. Therefore, the very first step in handling this condition is to gain an understanding of the fundamentals of the technology concerning potential trouble sources and suppressive persons so that the situation can be handled.
And it
can
be handled.
Oh, It can be handled, alright, notice my bolding above...
The Type III PTS is mostly found in mental institutions.
This is scientology admitting it is a mental institution...but it is not any ordinary mental institution...it takes normal everyday people and turns them completely insane. Most mental institutions take people in who have major mental problems and try to make them better. $cientology takes NORMAL people in and makes them pay excesses of money to make them total retards.Especially celebrities...Hey, you got loads of money and you don't know what to do with it...just give it to me and we will make you SUPER HUMAN...Tom Cruise eat your heart out... Sad, but true
There is an amazing thread on ESMB...
Quite incredible isn't it, yet I reckon it barely touches the surface...my first encounter with a type 3 PTS...a man (no other information)... I never saw him, locked in a cabin on the Apollo...yelling and banging on the cabin door for days "let me out" I was told he was nuts, yeah, so would you be on the good ship Apollo. A floating mental institution for the totally deranged...
L. Ron Hubbard's PC (Pre Clear) files...
Many of the Affirmations relate to Hubbard's health problems, which were recorded at length in his
Veterans Administration
files; for instance:
"Your eyes are getting progressively better. They became bad when you used them as an excuse to escape the naval academy. You have no reason to keep them bad."
"Your stomach trouble you used as an excuse to keep the Navy from punishing you. You are free of the Navy."
"Your hip is a pose. You have a sound hip. It never hurts. Your shoulder never hurts."
"Your foot was an alibi. The injury is no longer needed."

[

13

]
Which reminds me...where is L. Ron Hubbard's 'CLEAR' number or Mary Sue's? When did they become Clear? When did they become OT? Even poor Quentin had a Clear number and also Diana, but L.Ron and MarySue Hubbard...silly me...I forgot, they are not from this planet...Venus? Mars? NO. cuckoo cloud nine
...but a very wealthy cuckoo cloud nine
A Mental illness, run by crooks, that eats tax payers money...which planet are we on?
I think it's called TEEGEEACK!
Freedom to do what ever the hell you want if you have enough money
...and a pretty face...looking at you Tom Cruise and Louisa Hodkin/Calcioli
www.freedommag.org/issue/201411-held-back/scientology-news/a-look-at-london.html

A Look at London

. by John F. Sugg. As far as weddings go, it was a grand affair.

The bride wore dazzling white and was beautiful, the groom was dashing in his ...

Freedom...they chant...what freedom from unintelligent religions?

Did any of you reading this know that ISIS has several meanings, we have the beheaders and heads on a pike...all rolled into one...it's even more correlated than even I thought...

A school and Scientologists

[picture caption: Principal Margaret Hodkin, pictured in front of Greenfields School, Forest Row]

Why the brochure will have to be changed

Greenfields calls itself an "inter-denominational" school.

We brought this to the attention of ISIS (Independent Schools Information Service) last month.

ISIS says it will now ask for the word "Scientology" to be included in the next edition of the London and South East regional handbook, which is read by thousands of parents.

Regional director Ian Ross said: "We rely on the schools to provide us with the information. We think the time is now appropriate to make a change.

Asked if he thought the current entry was misleading, he replied:

"Well, we wouldn't be attempting to change it if we felt it was satisfactory."

The move was welcomed by Wealden MP Geoffrey Johnson Smith. He told the Argus: "If the school has any links with the cult this should be made absolutely clear."

And Coun Jenny Langston, a member of East Sussex education committee, added:

"The school should be honest and open about its links so parents can make an informed decision."

Today the school, which opened 13 years ago in a former vicarage in nearby Hammerwood, has 178 pupils aged between three and 18.

Boarders are accepted from the age of ten. Care arrangements at all independent boarding schools in East Sussex are checked regularly by the county council.

Officials recently visited Greenfields.

John Windebank, head of the inspection unit, said: "The school has copies of the report and any parent or prospective parent can ask the school for a copy of that report."

But educational standards at Greenfields come under the scrutiny of the Department for Education in London. The last full inspection was in July 1985.

It can cost more than £2,682 a term to attend Greenfields.

The fees vary: Day pupil, £335 to £1,470; weekly, £2,072 to £2,480; full board, £2,272 to £2,682.

The school is a registered charity.

Greenfields opened in nearby Hammerwood in 1981 without planning permission.

Following an unsuccessful appeal to the Department of the Environment, it was forced to find a new site.

[See also the

Page One Opinion

from the same day's Evening Argus]

ISIS...Independent State Schools Information...get informed...you could be sending your child to Syria or Clearwater, Florida...both are CULTS with heavy indoctrination...one kills point blank...the other kills slowly, but surely...rendering you absolutely useless.I know, because that is what they did to my Father and tried to do to me.